If you're passionate about real estate but not interested in becoming a residential agent it could be helpful to look at corporate real estate jobs. When you work in corporate real estate you help companies — often large corporations — find property for their business needs. This could involve securing store locations, office space, warehouse space or even factories.
Here are the details you need to know if you're thinking of looking for corporate real estate jobs.
Descriptions for corporate real estate jobs
If you're searching for corporate real estate jobs, you might see with a wide range of titles, duties and requirements. To save you some time, we've read through many job descriptions and found what most of them tend to have in common.
FREE Guide: Learn how to earn more with our 2018 Real Estate Income Guide.
Titles
Here are a few different titles that all relate to working in corporate real estate. If you're searching for corporate real estate jobs, try using these title in the search bar of the platform that you're using.
Facility manager

Cost manager, corporate real estate

Corporate real estate manager

Global real estate strategic planning manager

Real estate consultant

Real estate analyst

Construction project coordinator

Real estate acquisitions manager
When you're searching for corporate real estate jobs, it's helpful to try finding jobs under a variety of titles. Sometimes different titles can have similar job descriptions so don't get too hung up on a title — it's just words. Instead, use keywords that can guide your job hunt.
Daily duties at corporate real estate jobs
Obviously, the real estate job descriptions between different corporate real estate jobs can vary. For example, a facility or property manager's day-to-day duties will involve maintaining the specific property they are assigned to, while a real estate acquisitions manager will focus on finding new properties for a business. Totally different jobs. However, there are some commonalities among many of the job descriptions we saw.
Develop and maintain strong communication across teams.

Work with outside vendors and providers to advance company goals.

Partner with site stakeholders and community members.

Review new requests for available real estate and coordinate with landlords and brokers for property surveys and site visits.

Review and draft legal real estate documents.

Prepare marketing presentation materials.
In general, a strong knowledge of the legal aspects of real estate coupled with an ability to work well on teams and cross-functionally seems to be part of many duties in corporate real estate.
Requirements you'll need for a job in corporate real estate
Here's a list of what many hiring managers for corporate real estate jobs are looking for.
Some real estate experience.

For certain jobs, employers want post-secondary education in real estate, business, finance or business administration.

Ability to work well with finances and financial teams.

Organized and good with deadlines.

Strong interpersonal and collaboration skills.

Problem solver who can juggle priorities.
Where to look for corporate real estate jobs
Getting started in corporate real estate isn't the same process as starting as a residential real estate agent because unlike residential real estate — where you find your own clients — in corporate real estate you usually work within a company to service their overall real estate goals.
Here are some ways to hunt for corporate real estate jobs.
Job boards
You can find corporate real estate job listings by searching boards such as Indeed, Glassdoor, ZipRecruiter and Simply Hired.
There are also a few job boards specific to corporate real estate: Adventures in CRE and Select Leaders. If you're looking for insight into the commercial real estate job market, Select Leaders also publishes an annual barometer report detailing the state of the corporate real estate profession. You can access it here.
Networking
Attending conferences and events in your local market can help you meet corporate real estate professionals who might be able to assist you with your job search. Another way to meet people is by connecting online through sites like LinkedIn. Those same job titles from above? Enter them into the LinkedIn search bar to see what people in your area list as their day-to-day tasks, and use their career progression to help craft your own.
How much can you earn?
Corporate real estate jobs can be lucrative depending on a number of factors including your niche, position in the company and seniority. In general, commercial real estate is one of the real estate niches where workers earn the most.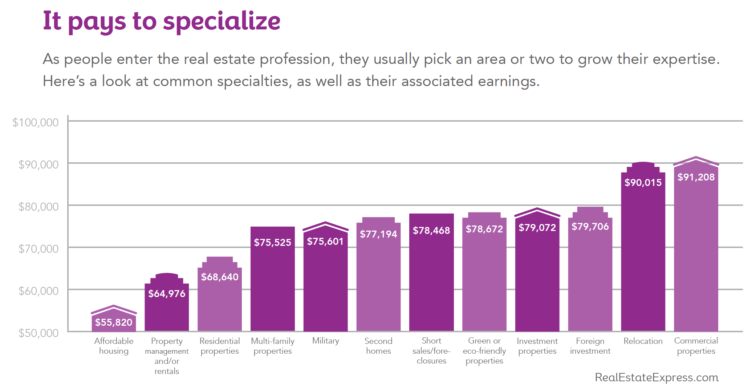 Is a corporate real estate job right for you?
Ultimately, to decide whether or not a corporate real estate job is something you want to pursue you'll have to take a look at the duties and requirements to see if they match your working style and career goals. If you enjoy office culture and value a highly collaborative atmosphere, then corporate real estate jobs might be something you want to pursue.