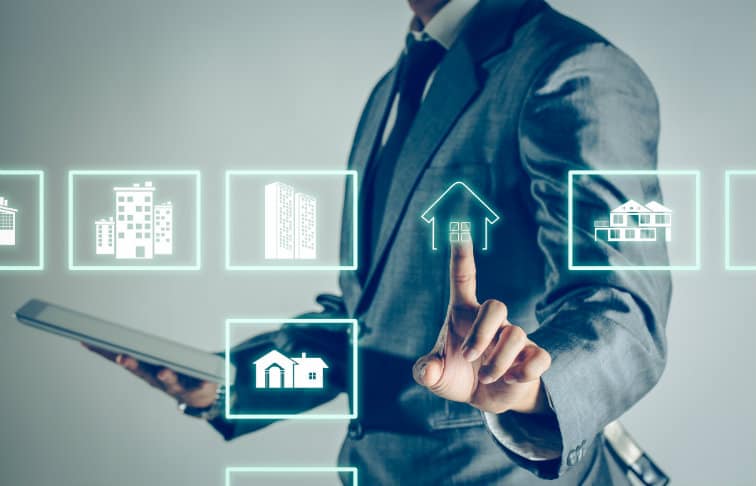 While some real estate agents have adjusted to new real estate technology, others trail behind. This creates a chasm in service, availability, and efficacy between those choosing to embrace the latest technologies and others holding fast to providing traditional services without any alterations. As homebuyers and sellers learn more about the latest options, time will show that they appreciate the ability to communicate easier, get information faster, and experience more seamless processes with their agent.
The housing market has long been resistant to incorporating new real estate technology. The need to know the local neighborhood, broker monopolies, and the complexity of many processes, such as those involved in mortgages and closings, have kept working with an agent an attractive option. However, will this change with new technologies and will the housing market create new standards of service? Will agents see that the latest technologies not only simplify processes but take some of the weight off of their shoulders as the technology can be used to assist buyers and sellers?
What exactly is happening in the real estate industry worth taking note of and incorporating as part of their standard practices? Explore the latest technologies to disrupt the industry and challenge how agents service their clients.
Mobile apps make it easier to get detailed information
Potential buyers no longer even need to check a website to get the latest information on available properties or research the latest real estate trends. The major players like Zillow and Trulia now offer apps to deliver home-sale information in a convenient package. Buyers can choose to run the Zillow app as they explore a neighborhood and get details on recent comps, find out what homes are available, learn the real-estate tax on a property, or take a virtual tour as part of the services provided through the app technology. Basic questions that a buyer might have about available homes in a community may now be handled through the use of real estate app technology.
New platforms to lease and manage commercial property
Property owners and tenants can benefit from new platforms that coordinated separate services and channels of communication into a single platform. View The Space (VTS) is one such platform improving efficiency and communication between reps and property managers or owners. Such tech translates to an increase in tenant satisfaction and simplifies the property management experience for owners. Process automation technology combined with chatbots in platforms such as Buildium or Zenplace and integrated on site makes for a world of difference in terms of building maintenance, servicing of tenants, and much more.
Save time and get organized with e-signing
It can prove difficult to schedule time to meet in person to sign off on important documents. Such old-school practices can create delays, and new secure platforms and e-signing services can now eliminate this waste of time. Secure platforms are available to share task lists, files or sign documents. Agents working with buyers or sellers who are not local may want to investigate e-signing and related platforms as a way to make for more convenient transactions and communications.
Buyers see more with 3D tours
Agents are adopting technology allowing for virtual tours to lead a prospective buyer through a home online. Virtual tours provide a "walk-through" of a property and give more of an immersive experience of a viewing a home online or through an app then the alternative of professional but static photos provided on a home listing platform. The technology can be integrated with bot technology. This allows potential buyers to have basic questions answered without having to contact an agent. All of the extra information can help buyers determine which homes are worth an actual tour. The technology available can let buyers get a detailed idea of a home at any time of day or night. More information and added convenience without the initial need to contact an agent is a win for prospective buyers.
Ready to make a change
Digital technologies can make it easier for agents and clients to communicate, organize materials, and speed up processes to close a sale. Disruptive technologies will impact both residential and commercial real estate sectors and look likely to improve the client and property management experiences while reducing the amount of personal contact that may be needed with an agent or property owner.
The real estate industry has been stuck in a rut for some time, and these technologies will help move it forward as a whole. The divide will only widen between those agents taking on the challenge and attracting clients expecting to be able to use mobile apps, chatbots, and more, and others who refuse to change.

Gary Ashton is the CEO and owner of The Ashton Real Estate Group of RE/MAX Advantage. His real estate team is #1 in Tennessee, Nashville, and now #4 in the world. You can follow him on Twitter or LinkedIn.